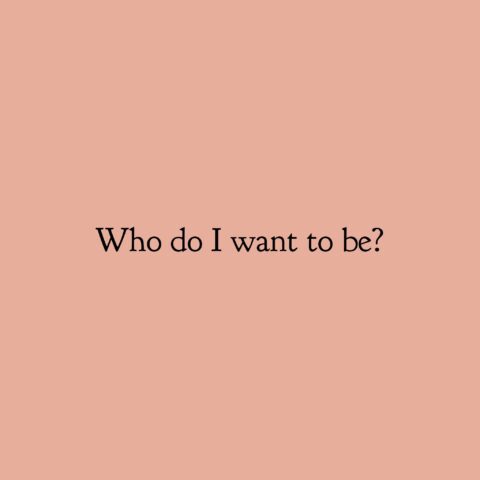 Asking myself this question has been life changing for me.
Let me explain.
Change is hard. I've never been one to set goals. Ever. I was addicted to fast food. And soda. And playing the role of victim. And wallowing. And seeing through whatever is the opposite of rose colored glasses.
But something changed in me when I began taking baby steps to work on some of these things. I mean something in me REALLY changed. I changed. I'm a new person.
I began to believe that we can be TRANSFORMED by the renewing of our minds – because GOD SAYS SO and I believe Him. But I had to CHOOSE to believe it. And keep choosing it.
So, when I am tempted to eat that cookie (yes, 60 pounds later I am still tempted) I ask myself, "Who do I want to be?" And I can answer now, "I want to be healthy and strong and serve well." And in that moment, I make a decision based on WHO I WANT TO BE.
When I am tempted to be clingy and needy and feel like everyone hates me, I ask myself, "Who do I want to be?" And I answer with, "I don't want to be the clingy one. I am complete and whole in Christ. I want to be confident and secure in HIM…" and I act accordingly.
I shared a few simple goals/action steps and tips in my Instagram stories the other day. I will save them in a highlight called CHANGE so you can listen even if you miss them today. You can click here to watch that highlight!
Tell me in the comments if change feels impossible for you. I promise, if I can do hard things, anyone can. And make no mistake – changing my thoughts has been the hardest battle I've ever worked through. Much harder than losing weight.
A few things that have helped me on my journey:
✨ God's Word (truth) every single day
✨ Edie Wadsworth (my friend and team leader) and her teaching and life mentoring school have been life changing for me.
✨ Oils & Ningxia Red (from Young Living, radically changed my health, watch my stories linked above for how)
✨ Taking BABY STEPS toward change. Not waiting for motivation to start. Motivation comes AS you do the thing. (Baby steps such as drinking more water, go for a short walk each day, read 1 verse each morning, implement one change for your health, etc.)
✨ treating goals like a to-do list for growth.
I share this because I truly want you to know that CHANGE IS POSSIBLE. It is not hopeless. YOU are not hopeless. You are loved. And you were created to do hard things.
Who do you want to be?
P.S. Scroll back up and save that image to your phone wallpaper so you can be reminded of who you want to be each and every time you glance at your phone!