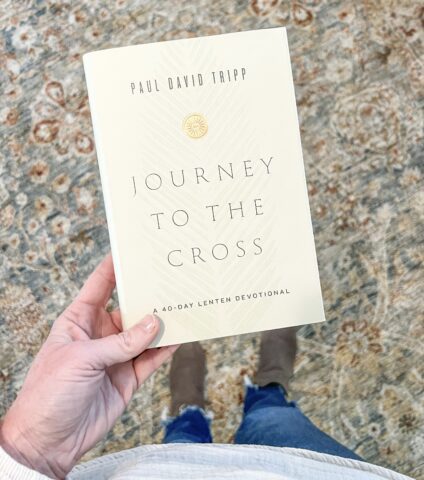 We are coming up on one of my favorite seasons of the year, the days leading up to Easter Sunday. This period of time in church history is called Lent. I do not attend a liturgical church but I have always loved this season so very much. It is a time to focus on the cross, on the life and death and resurrection of Jesus. A time to focus on repentance and gratitude and remembering all Jesus did for us.
This year, we are going to use the book Journey to the Cross by Paul David Tripp. As with all the studies we do together, you don't have to have the book! There is also a daily verse that you can read & meditate on as well, you can see those below.
This year (2023) Lent starts on Wednesday, Feb. 22nd, and goes up through Easter Sunday. This gives us 40 days of readings & verses – minus Sundays.
Lent is a time in the yearly Christian calendar when we mourn our sin and let go of worldly things that keep our hearts from experiencing God more fully. But how do we reevaluate and recalibrate the values of our hearts to match those of our suffering Savior?
In this forty-day Lenten devotional, best-selling author Paul David Tripp invites us to set aside time from the busyness of our lives to focus on the suffering and sacrifice of Jesus. Each of the short readings encourages us to abide in the abundant joy found in Christ as we encounter the Savior more fully and follow him more faithfully during this Lenten season.
Meet me on Instagram each morning and we will chat about the daily verse & reading. Other suggestions for making this study your own: choose a passage to memorize, write the verse each day, pray through & journal each passage, ask a friend to join you for accountability, and join me for the conversation on Instagram.
LENT 2023 VERSES