Yet another fabulous art project that I found on Pinterest! My students did a great job on this at co-op last week!
I found this lovely idea on this blog.
Supplies Needed:
Black construction paper
White watercolor paper – with 3 circles traced on it
Watercolor paint & paintbrush
Oil Pastels
Pencil
glue
scissors
Instructions:
Have children paint the 3 circles on the white watercolor paper with watercolors. Suggest they choose 3 different colors for their ornaments. Most of mine did solid colors, but a few asked if they could do stripes/patterns on their ornaments.
Let the watercolor ornaments dry, cut out the circles when they are dry.
As ornaments are drying, use oil pastels to draw the branches on the black construction paper. Use brown to draw a curved line, then different shades of green to make the needles on the branches. (Suggest that children not put the lowest branch TOO low on the paper or the ornament will not fit under it when it is glued on.)
When ornaments are dry and cut out and branches are drawn, glue one ornament just underneath each branch.
After ornaments are glued on, use a silver or gold oil pastel (or gray or black) to draw on the little hooks that will make them appear to be "hanging" on the tree branches!
I love how these turned out!!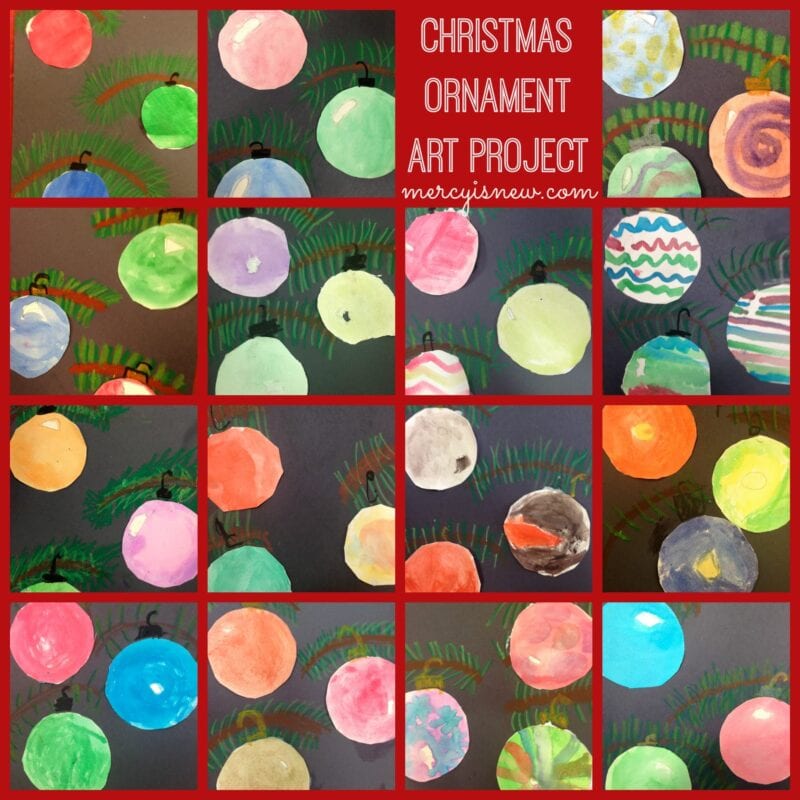 Teaching Art Links
One of my favorite tools for teaching art is Tricia's Simple Chalk Pastel Tutorials! Find them here!