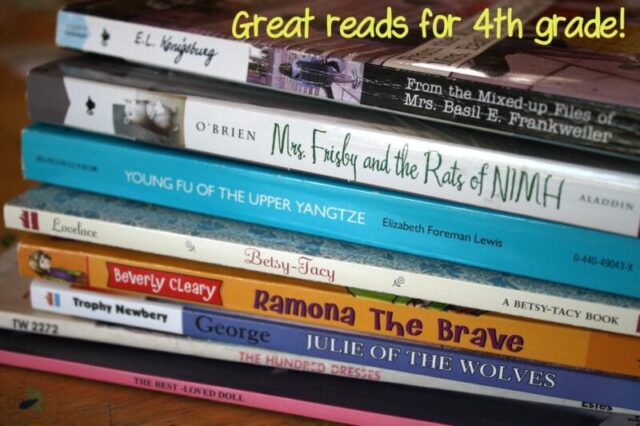 **Update: just trying to keep my list updated. 🙂 here are our most recent read alouds and independent reads. I tried to just update my original post, but I somehow lost the comments,which I'm bummed about. I'm not sure how to keep a running post going on my blog and continue to update it and re-publish it, AND keep my comments? If anyone has a suggestion, let me know! 🙂 
This year, for the independent reading my girls will do, I wanted to make a list of "must reads" for the 4th-5th grade age group. I bought many of these books at our local bookstore and they are now in a basket in our school room. I wanted to make sure my girls were getting to read the GOOD STUFF and not just the books that correlate with our history! So, that will be their independent reading for this year! So many great books, so little time…this is a great way for me to make sure they are reading some great books this year. And whatever we don't read this year, will just stay in the basket to be added to next year's books!
Here is what we have read this year so far…in the 2012-2013 school year. (Our school year started at the beginning of June.)
Read Alouds
Little House in the Big Woods

Farmer Boy

Sweet Clara and the Freedom Quilt

Kisses from Katie

Little House on the Prairie

On the Banks of Plum Creek

Clara Barton: Founder of the American Red Cross (Childhood of Famous Americans)

Island of the Blue Dolphins
 (audio)
My Side of the Mountain
 (audio)
Caddie Woodlawn

Across Five Aprils
 (audio)
Shades of Gray
Hannah's Independent reads
Civil War On Sunday

Family Under the Bridge

The Hundred Dresses

Hour of the Olympics

Tales of a Fourth Grade Nothing

Ginger Pye

Pinky Pye
Emily's Independent reads
Civil War On Sunday

From the Mixed-Up Files of Mrs. Basil E. Frankweiler

Bridge to Terabithia

The Hundred Dresses

Hour of the Olympics

Animal Rescue: Honey the Unwanted Puppy

Dear Mr Henshaw

Helen Keller book
Frederick Douglas biography
Harriet Tubman biography
More Books in the Basket (to be read)
A Wrinkle in Time

All-Of-A-Kind Family

An Extraordinary Life: The Story of a Monarch Butterfly

Anne of Green Gables

Bedknobs and Broomsticks

By the Great Horn Spoon!

The Black Stallion

The Giver  (which I didn't realize til recently was a trilogy!)
Hatchet

Heidi

Island of the Blue Dolphins

The Mouse and the Motorcycle

Mrs. Frisby and the Rats of Nimh

My Side of the Mountain

Mufaro's Beautiful Daughters

Number the Stars

The Ordinary Princess

Princess Academy

The Shakespeare Stealer

The Saturdays

The Swiss Family Robinson

Tom Sawyer

The View from Saturday

Walk Two Moons

The Witch of Blackbird Pond

The Wolves of Willoughby Chase
**full disclosure: amazon affiliate links used.
**I have not pre-read all of these books. I took the titles from various lists I found online and just compiled a list of books I owned and could find at the used bookstore. I will read at least the beginning of each book before the girls start a new one, if I'm not familiar with it. If you see any questionable titles in my post, please let me know! 🙂