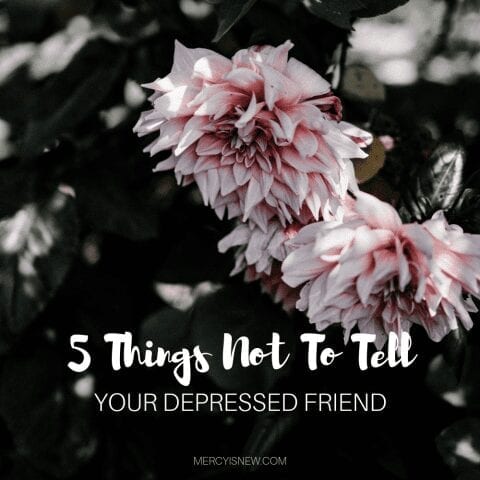 I'm guessing we all have someone in our life that needs encouragement. I'm guessing most of us know someone that struggles with anxiety or depression or any combination of things. As one who struggles myself, I wanted to share a few things with you that I feel are important NOT to say.
If you're looking for ways to help, here are 5 verses you can share with a struggling friend and practical ideas for struggling moms.
Top 5 Things You Should Never Say To A Friend Struggling With Depression
1. Christians are supposed to find their joy in Christ! You shouldn't be sad/depressed/angry if you are a true Christian. This statement hurts. YES there is JOY in Christ. But, having deep seated joy doesn't take pain away. Joy in Christ, for me, looks like peace and contentment DESPITE our circumstances. And let's face it, none of us have perfect circumstances all the time. I fully believe our circumstances, the ones we view as negative, draw us to Christ. He uses those times in our lives to show us Himself. He gives us Himself, which is joy, of course, but He doesn't always take the pain away. He meets us in our pain. 
2. It is sinful to take anti-depressants. Can I just gently suggest that possibly God gave doctors wisdom to CREATE the anti-depressants in the first place? Can I offer the reminder that you would never, ever ask a cancer patient to stop chemo because it's a sin. You wouldn't tell your diabetic friends to stop using insulin or taking metformin. Even if you really, really believe that taking anti-depressants is wrong, let's just keep those thoughts to ourselves, because truthfully, they aren't helpful.
3. You must be depressed because of sin in your life. Do you remember the passage in John 9 where Jesus is asked WHY a man is born blind? Jesus does not say it is because of sin. Jesus tells them that their affliction was given them so that glory could be brought to God's name. I believe there are many reasons for the pain and suffering in a Christian's life, not the least of which is that we can give glory to God in the midst of our trials.
"As he went along, he saw a man blind from birth.  His disciples asked him, "Rabbi, who sinned,this man or his parents, that he was born blind?" "Neither this man nor his parents sinned," said Jesus, "but this happened so that the works of God might be displayed in him." John 9:1-3 
4. Everybody has bad days. Everybody is sad now and then. So, this is true…everyone does have bad days. Bad days are not the same thing as depression. Being sad about a circumstance in your life is not the same as depression. Even grieving, as awful as it is, isn't the same as depression. Grieving and life circumstance CAN certainly LEAD to depression. But, those aren't always one in the same.
5. Get over it. Just get over it. Ouch. If you broke your leg tomorrow, I would probably not tell you to "get over it." I also would never, ever consider saying that to any friend struggling with ANYTHING at all, no matter how big or small YOU feel it is. That is the thing, we never have the whole picture of what someone is going through. We just don't. Our limited experience isn't enough to see into the hearts of those around us. Only Jesus can really see into the depths of our suffering. So, instead of attempting to see just how bad someone has it, how about encourage regardless of the size of the issue. For me, things that may seem small to you, sometimes greatly weigh me down. It's just the nature of who I am. For others, they may deal with things that I have never faced…this doesn't mean I can't still be a blessing and encouragement to them.
Lastly, I don't want to leave you hanging…I want you to know that it is possible to be a blessing to a friend that is struggling. Be a listening ear without telling them what to do, write an encouraging note in the mail with a Bible verse in it. Tell your friend you are praying for them, and then pray! Pray WITH your friend. Text your friend (if she is like me and doesn't always answer the phone) and tell her you are praying for her or just "hope you have a great day." Send flowers. Order pizza for your friend's family for dinner. Drop off her favorite drink on her front porch. Tell her that you love her no matter how she is feeling that day. Point your friend to this list of resources for blog posts and books she can read for encouragement.
Sometimes, when one is depressed, it's really hard to accept help. If you are the friend that is struggling, I encourage you to humble yourself and accept whatever a friend is offering to do for you — laundry, bring a meal, keep your kids for an afternoon, let your friend into your heart.
Friends, encouragement is so vital to our well being. I hope and pray that this post blesses you and helps you know how to encourage your friends that are struggling right now. And I pray that the next time you are struggling, the Lord will provide encouragement for you as well!
Do you have anymore suggestions for me? What have you been told that really hurt? Or what could your friends do that would really help?? I want to hear from you!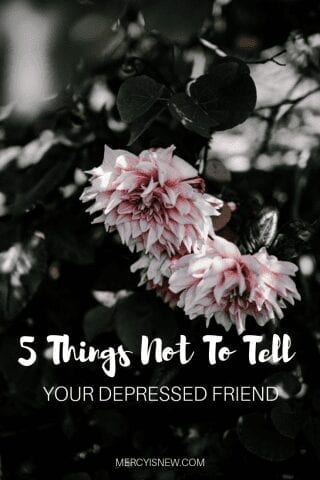 3 Years Off of Anti-Depressants
I would love for you to read an update now that I have been off all of my anti-depressants for 3 years and am thriving. God has been so good to me. My mindset has changed. My health has changed. We are never truly hopeless if we have Christ. We have the power of the Holy Spirit living within us giving us the power to make the steps necessary to BE TRANSFORMED.
My Journey Off of Anti-Depressants
My wellness journey & 51 pound weight loss!