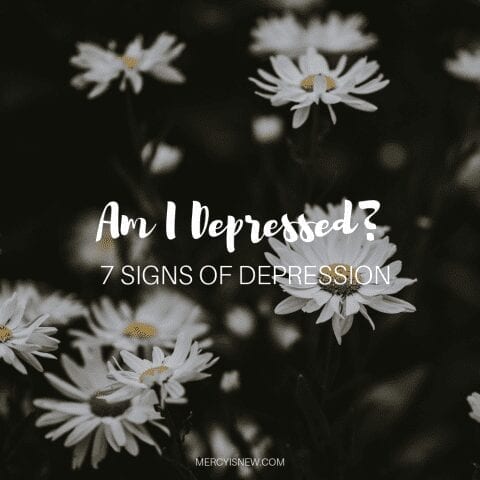 In the past I have had people say to me that they feel a certain way or have done a certain thing and wonder, "is this depression?" Now, I want to be clear from the start, depression looks different for different people. I can only share my own experience. But, these are traits that seem to be *fairly* common among those of us that struggle.
So, what to do if these characteristics describe YOU? Here again, different things work for different people. First and foremost, TALK to someone! Do not suffer alone! Counseling is NOTHING to be ashamed of, but if you can't afford that, a good friend or pastor or your doctor are also great places to start. Here are some more links that may help you: Natural Ways I'm Fighting Depression, Best Biblical Book on Depression, Practical Tips for Struggling Moms.
How to Know if it's Depression
1. You're tired all the time, but "tired" isn't really the word you're looking for. For me, tired didn't begin to cover what I was feeling. I would say I was tired, but I would be thinking on the inside, "you have no idea." Not being able to get out of bed is pretty common for those that are struggling. But it's more than a physical tiredness. It is mental exhaustion. It is beyond that "emotionally drained" feeling you have after a big event in your life. You just can't even make one.more.decision because your brain feels incapable of thinking clear thoughts.
2. Motivation is a thing of the past. This was a HUGE one for me. I could not find motivation to fix dinner, wash clothes, even smile and make small talk. And it wasn't that I just couldn't "muster up the energy." Depression makes these normal, everyday things feel flat out impossible. Like in my brain, I was thinking, "there is no possible way I can get these dishes loaded into the dishwasher." It wasn't laziness, it was a mental block, my body would not let me move forward.
3. Irritability and anger are much more present in your life. This was a very real struggle for me. I would not feel my best and become soooo irritable. The irritability led to much guilt in my mothering. It was just a vicious cycle. I would snap at my family for tiny, normal kid things. And I would snap for NO good reason at all. I hated it about myself but felt helpless to change it. I could tell when I woke up in the morning before I even talked to one person if it was going to be a good day or a bad day. It felt like a switch in my brain.
4. You don't have the words to pray. I'm so thankful that when we don't have the words to pray, the Holy Spirit intercedes for us. Because, I'm sure most of you know, when you are going through something hard, day in and day out, sometimes you lose the words. Often it was hard for me to talk to actual human people in my life, let's be honest, I'm an introvert and conversation isn't always easy on a regular day! ha! But, during these times, I often could not even think of the words that I wanted to speak. Forming the words in my mouth was difficult and felt impossible. So praying? I would go before God, with tears streaming down my face, and just sit in His presence. I may not have had words, but my time with God was still sweet. I knew He was with me in the darkness. A huge, huge help to me in my walk with Christ was learning to pray the Scriptures in times of depression. Praying the very Words of God gave me the words I needed, especially the Psalms.
5. You don't want to go anywhere or do anything. Some days it isn't a matter of "want to," it literally feels impossible. I would dread appointments and even cancel them. Getting myself and the kids out the door literally felt like an impossible feat. My head would be clouded, I would look around and literally not.know.what.to.do to get us all ready. It's crippling, really.
6. You feel extremely lonely even if you are surrounded by wonderful friends. This is a hard one for many people. I have friends that love me and would ask how I was doing. Some days I could be more honest than others, but it took me awhile to get there. Probably a long while. It was a long time before I could even say "depression" out loud. I had to remind myself that I.was.not.alone. But those reminders didn't feel real to me. I was overly sensitive and borderline paranoid that people didn't want to be around me. So, I would withdraw even more. One of the things that happens to me when I'm at my lowest is the racing thoughts of anxiety. Just walking into a room of people would feel overwhelming to me. I just *knew* no one wanted me there. I was highly irrational. Those irrational, racing thoughts were a big part of my struggle because they led me further down the spiral. I want to note here that I think a lot of the anxiety and racing thoughts is hormonal for me!
7. You have no hope that tomorrow will be better. Hope was a thing of the past at my lowest times. I truly thought life would never, ever get better. I thought I was destined to suffer forever. And, friends, I don't think that God's heart is for us to be happy. I believe He brings suffering into our lives to make us more like Him. There is purpose in the suffering. But, dear ones, the thing is, at my lowest, I could not see that…I did not have the hope of Christ that there was a  purpose, that He was still at work in my life. Without that hope, the dark times seem so very hopeless. But, with Christ and just the realization that He was still at work, He was with me in the dark, that gives PEACE and HOPE back.  Jesus is the hope — the hope is not that we will feel better tomorrow, unfortunately. That is a tough lesson. But holding on to that hope did bring peace.
Friends, don't read this list and get even more overwhelmed. As I shared in my depression story, admitting you are struggling is a HUGE step. Say it out loud to someone. Allow others to help and bless you. Talk to your doctor. Don't walk this path alone!  Even when the enemy makes you feel alone, speak the truth aloud to yourself, here are 10 Truths to Speak Aloud When You Feel Despair. And here are all of my posts on depression. 
Depression may look different for you. Please share in the comments symptoms you have found to be true in your own struggle that I may not have listed here!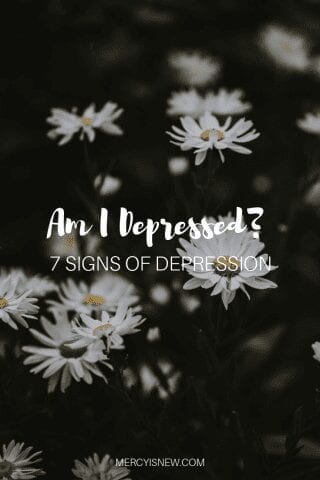 3 Years Off of Anti-Depressants
I would love for you to read an update now that I have been off all of my anti-depressants for 3 years and am thriving. God has been so good to me. My mindset has changed. My health has changed. We are never truly hopeless if we have Christ. We have the power of the Holy Spirit living within us giving us the power to make the steps necessary to BE TRANSFORMED.
My Journey Off of Anti-Depressants