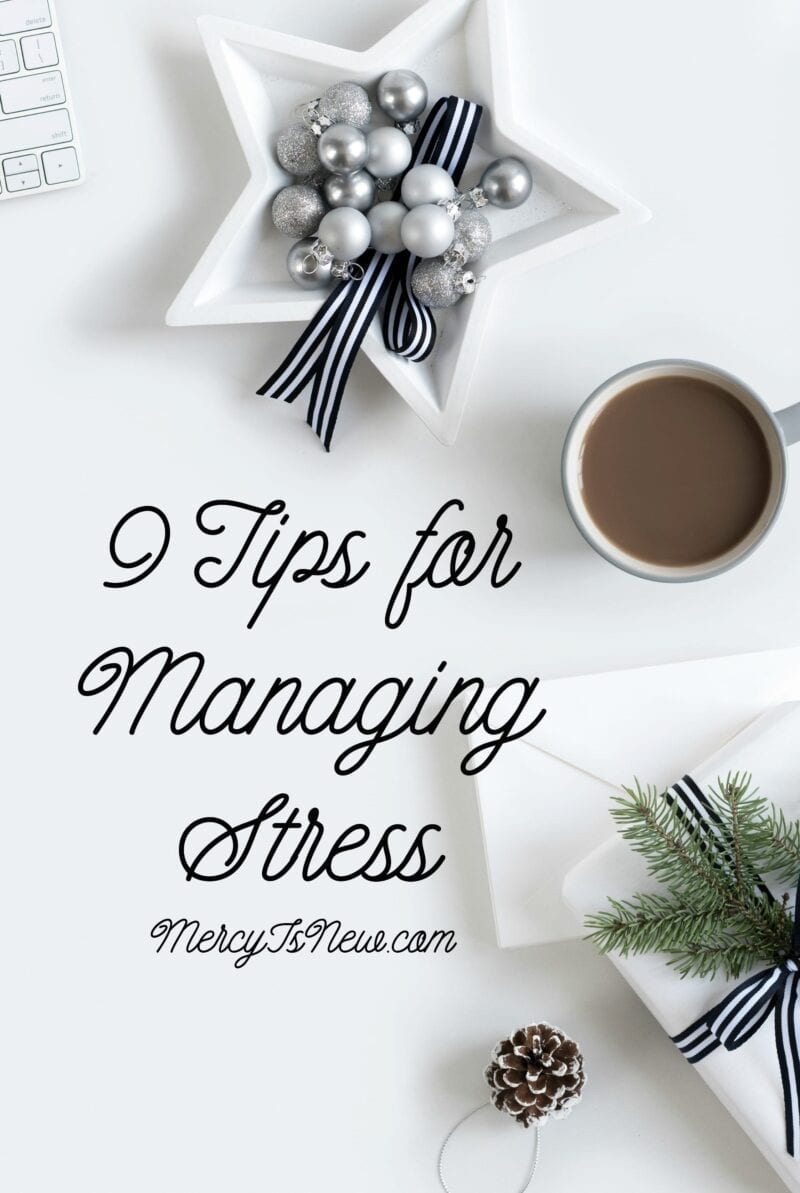 Yesterday we discussed everything that stress does to our bodies – both physically and emotionally.
Read Part 1. – What Stress Does to Our Bodies 
Read Part 3 – 10 Verses for the Anxious Heart
Today we are going to discuss some ways we can deal with the stress in HEALTHY ways. Now, I may not be sharing anything monumental today. However, my hope is to INSPIRE and ENCOURAGE you to take a few baby steps TODAY to ensure a HEALTHIER holiday season.
I don't know about you, but I want to FEEL GOOD and ENERGIZED for the holidays. I don't want to overeat, stop exercising, lose sleep, feel anxious all the time and be miserable through the next 2 months. I want to enjoy my family and our time together.
9 Tips for Managing Stress
Start with gratitude. Grateful people are happy people. We can choose to be grateful or we can keep on complaining, which leads to bitterness and discontent and chronic negativity. Start keeping a gratitude journal. Today. Right now start writing down daily things you are thankful for. Big things. Little things.
Change your mindset, change your life. You may have heard that said before, just like I have. But until I lived it I didn't believe it. I didn't believe I was capable of change. I felt pretty hopeless for many years. But, that hopeless feeling is a lie from the enemy. God's Word tells us that He is MAKING US NEW. We have to choose DAILY, even moment by moment to believe the TRUTH of God's Word and do battle with the enemy of our minds. We have to identify the lies, and then replace them with truth. That means we must be in God's Word. Read more of my story about changing my mindset and how it has very much changed my life. 
Don't be busy just to be busy. What can you prayerfully eliminate from your busy calendar. Busy does not equal better. Take out your planner now and circle in some "white space." Let there be moments of peace & quiet in your holiday season.
Spend regular time with God. Go on a walk, pray, give thanks, intercede for others. There is PEACE found in communing with God. Phil. 4:4-6. Read the Word. Write the Word. Pray the Word. Meditate upon TRUTH. To begin to replace all of the lies the enemy whispers to us on a regular basis, we must be feeding our souls with truth.
Exercise no matter how busy you are. Exercise is actually a fabulous stress release. Studies show that adding in regular strength training can be even more powerful than medications.
Food is medicine. What are you putting in your body that is making you irritable and feel bloated and just sick to your stomach. EAT WELL TO FEEL WELL.
Fix your sleep. Our sleep, or lack therof, impacts so many areas of our lives. What do you need to change? For me, getting OFF sleep meds, exercising regularly, eating better and using essential oils with supplements has improved my sleep about 200%. Don't expect to decide to work on your sleep and have it improve the next day. For me, it took weeks and maybe even a few months to get my sleep changed for the better. I had been taking sleep meds for so many years that it took quite awhile to get it all out of my system. I also use a supplement from Young Living that helps me to sleep WELL and wake up with energy! Sleep is so important!
Use essential oils. Essential oils help with our emotions and stress levels in very powerful ways because they go straight to the parts of our brains where our emotions and memories and hormones are located. If you have essential oils sitting in your house, you are sitting on a gold mine. OPEN THOSE BOTTLES and start smelling in the goodness and taking deep breaths of gratitude. If you need help getting essential oils and want to join my personal team, click here. I'm going to be sharing the top 10 best oils for dealing with stress in a post coming up soon. Read more of my journey with essential oils and how they have helped my emotional well being here. 
Find what helps you relax and MAKE IT HAPPEN. Maybe it's time alone, maybe it's reading or praying, maybe it's nature, maybe it's time with a friend over coffee. Whatever helps you feel more like yourself and more filled up and more at peace, it is up to YOU to make it happen.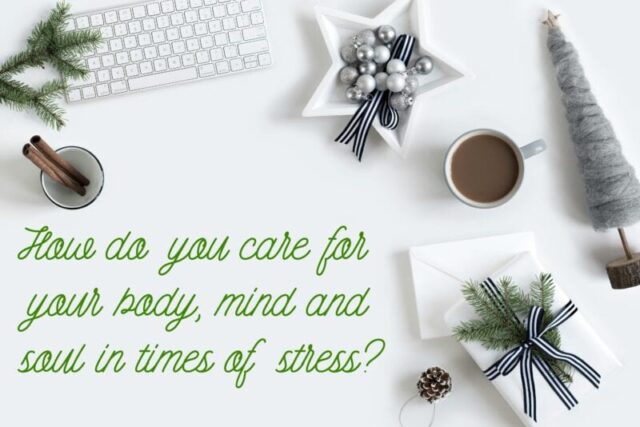 What about you? What fills you up? What brings you joy? What energizes you? How do you care for your body, mind and soul in times of stress?
Tell me in the comments what ONE THING you can do TODAY to be intentional and wise about managing your stress in healthy ways! What can you do today? Go for a walk, schedule a massage, get up 30 minutes earlier to spend time with God, put your kids to bed 30 minutes earlier…
Facebook Live Chat about Managing Stress
Stress Management Series
What Stress Does to Our Bodies (part 1) 
3 Years Off of Anti-Depressants
I would love for you to read an update now that I have been off all of my anti-depressants for 3 years and am thriving. God has been so good to me. My mindset has changed. My health has changed. We are never truly hopeless if we have Christ. We have the power of the Holy Spirit living within us giving us the power to make the steps necessary to BE TRANSFORMED.
My Journey Off of Anti-Depressants