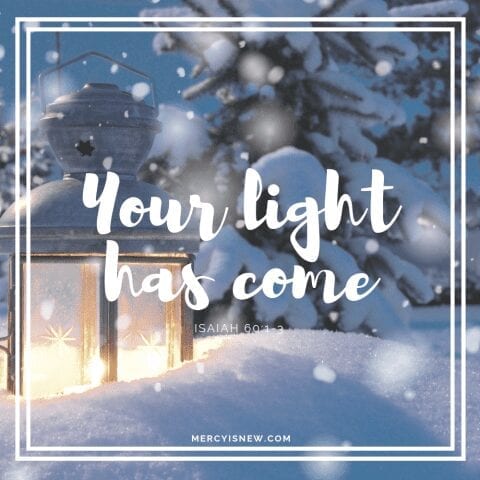 Scripture: Isaiah 60:1-3
"Arise, shine; for your light has come! And the glory of the Lord is risen upon you. For behold, the darkness shall cover the earth, and deep darkness the people; but the Lord will arise over you, and His glory will be seen upon you. The Gentiles shall come to your light, and kings to the brightness of your rising."
Considering Light:
I love these prophesies in the Old Testament because I love looking at how God was preparing the people for the arrival of His Son. I love that He so clearly pointed to Jesus verse after verse. Without Jesus we will continue to live in darkness. Without Him, we are nothing. Without Jesus, there would be no cross, no one made righteous because of the blood of Jesus. But there is hope! Arise and shine! Our light has come! Do not continue to walk in the darkness when we have been given light. Darkness once covered the earth, but no longer do we have to live in that place of fear, death and darkness. We have light and we have hope because of the blood of Jesus! Go forth and shine!
Prayer:
It is my heart's desire to walk in the light as You are in the light, Father. Thank You for Your son Jesus. My light has come! Your glory has risen among us. There is still darkness in our world, though, Father. Help us to bring light to the dark places, just as you came to do. Help us to shine Your light…in our homes, to our children, in our communities and around the world.
To grab your free ebook of these devotions, click here to subscribe.
Find all the posts from this series here (or click on the image below)