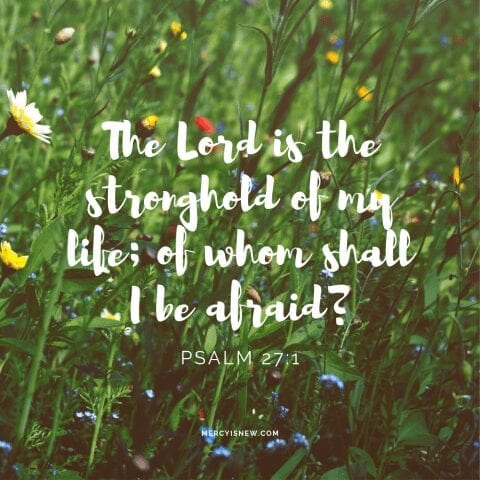 "If any are inclined to despond, because they do not have such patience, let them be of good courage. It is in the course of our feeble and very imperfect waiting that God Himself, by His hidden power, strengthens us and works out in us the patience of the great saints, the patience of Christ Himself." Andrew Murray
Scripture
"The Lord is my light and my salvation; whom shall I fear? The Lord is the stronghold of my life; of whom shall I be afraid? Wait for the Lord; be strong, and let your heart take courage; wait for the Lord!" Psalm 27:1, 14
In the Waiting
Long periods of waiting can cause fear. What if what we're waiting for doesn't happen? What if the longing of our heart never comes to fruition? Our hearts fill with anxiety and we can hardly stop thinking about it.
This is when we know that we have placed our hope ~ what we wait for ~ in the wrong place. While we wait for things to happen in our lives, ultimately, our hope and our thoughts and our hearts need to be caught up in waiting on the Lord, not on earthly happenings or relationships or things. When we fix our eyes on Jesus, our hope gets placed back in the right place.
We simply cannot live our lives waiting for the next best thing. We HAVE the best thing in Jesus, and we must constantly preach the gospel to ourselves. We must daily remind ourselves that Jesus is the gift, He is what we long for and where we place our hope. Waiting on God looks like spending time with Him, meditating on His Word, reminding ourselves – even in the hardest season – that Jesus is our hope, nothing else can satisfy.
Prayer
Lord Jesus, You are the stronghold of my life, I have you, what do I need to fear? God, because of Your presence in my life I can be strong, I can take courage and I can know that nothing on this earth compares to the knowledge of Your love. I wait on You, moment by moment help me to fix my eyes and heart on You and You alone.
To print your 31 day schedule click here!