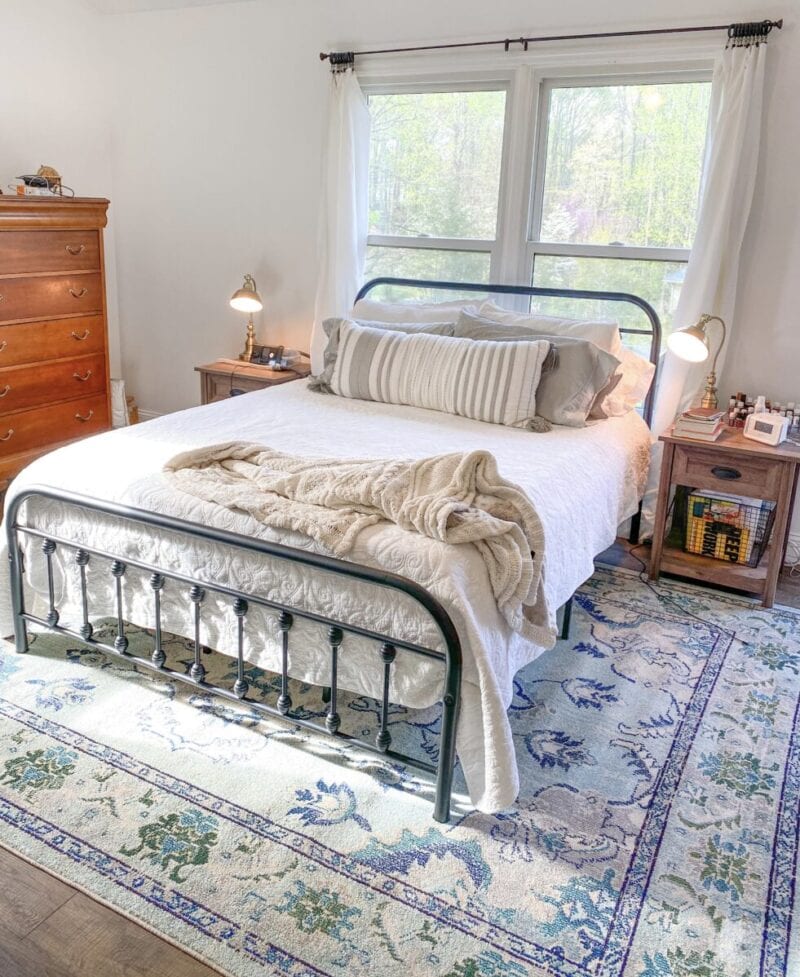 You may remember we updated our master bedroom in 2020 and I shared a few pictures in this post. We got a new bedframe and rings for our curtains so that I could actually OPEN them and have LIGHT shining in! Now that we've redone lots of other things new curtains are next on the list.
Well, if you've been following along on my Instagram stories, you know we've done LOTS more remodeling to our house. If you'd like to see more pics of the rest of the house, click over to my Instagram profile and then click the "HOME" highlight.
It all started because we wanted to replace the really old, really nasty carpet in our master bedroom. Well that turned into a whole slew of things that needed updating/changing.
We replaced the flooring in the entire main level of our home (I will be sharing pics/updates of the other rooms soon!) and I LOVE how it is turning out! The new flooring is Vinyl Plank, for those that are curious. We also had the whole main level walls painted WHITE. I LOVE how bright everything is now!!
Maple LOVES the new rug, scroll down for a few pics of her enjoying a new spot to nap.
It's not finished yet – still lots of little details – but it's done enough to share since so many of you are asking about the rug and such!
Links to Products
Rug (I have gotten lots of questions about the rug! I have ordered multiple rugs from Amazon over the years and I've always been super pleased! I just look for high ratings! I actually have several rugs from this same brand linked here and have loved each of them!)
Diffusers: Lustre and Haven (direct link to diffusers should work beginning May 1st)
Long gray & white throw pillow on bed: Target
Nightstands: Wayfair