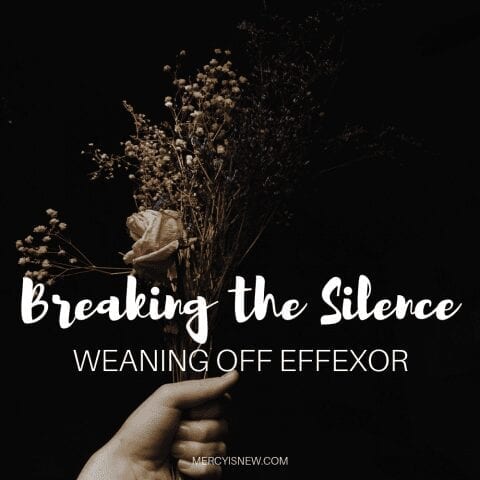 I haven't said much about something big going on in my life…and I admit, I haven't said it because of fear. When I started googling for help and not finding many blogging about it, but finding plenty of message boards and medical sites speaking to this subject, I knew God was placing on my heart the need to share more.
I have been very open on my blog about my struggles with depression, I have shared things that have helped me practically speaking, and I have shared encouragement for those finding themselves struggling. I have been open about the fact that I take medication and feel that God has used the depression and the medication to humble me and to show me my desperate need for Him as well as the admission that I really am not in control.
So, I want to share that I have successfully used Lexapro and Effexor over the years – the 2 that have worked best for my depression symptoms. I would say I have tried 7-8 in all. Weaning off any of the others has never been a problem.
Weaning off Effexor has been a bear, to put it lightly. Weaning off Effexor has pretty much rocked my world. It's been hard, very hard. And I'm not there yet, so be nice. 🙂
The main reason I am weaning off of Effexor is that it scares me. In August of 2012, I had 2 days of very scary vertigo type symptoms – that's what I thought it was. Dizziness, headaches, severe lightheadedness, nausea. When I finally realized (weeks or maybe months later) what it was, it scared me.
I had missed ONE day of my Effexor meds. ONE DAY. It scared me to think that a tiny pill was having that much control over my body.
I do have a few other very slight side effects that are annoying, and those have played into this decision as well.
My biggest symptoms from weaning off Effexor
lightheadedness – all.day.long – it's the worst
dizziness
nausea
anxiety – feeling pretty overwhelmed constantly too
a little more weepy than usual
tired, very tired (but that could be the benadryl and dramamine I'm taking! ha!)
The other thing I want to point out is that *most* regular family practitioner type doctors do not have any clue that this med is hard to get off of. As I have googled, I have found person after person whose doctor told them just to wean off it for 1-2 weeks and you'll be fine. My own doctor, that I do love, is unaware of how horrid this weaning process is too.
I share all of this because I know if I was googling about coming off Effexor, there will be others, and I want them to find this post and know that they aren't crazy and they aren't losing their minds.
It is really hard for me to talk about this "in real life," not because I don't have wonderful friends to talk to, but because if you haven't been there yourself, I am sure I sound like a big whiny baby! And I really don't want to be a complainer, but if I start talking about this crazy withdrawl stuff, I know I will start complaining. ha!
On one site I found online, someone said that coming off Effexor is harder than coming off of heroin. LOL! Not that I would know.
I was afraid to reach out and share this on Facebook because I have been such an advocate for using meds that I don't want people to think I've changed my mind or that I don't fully believe there is a time or place for these anti- depressants. I think Effexor is one of the most powerful drugs, and I've already told my husband that I'm not afraid to go back on something in a few months if I can't live happily without it. Honestly, I am so overly sensitive while I'm in the middle of this weaning that I knew I could not open myself up to criticism on facebook. (Yes, I'm already a sensitive person. ha! If you know me I'm sure you're thinking how could I possibly get any MORE sensitive! LOL!)
But it will not be Effexor that I go back on. Lexapro is the other med I was on long term and it never had this effect on me.
I also have been trying very hard to live a more healthier lifestyle, so my hope and prayer is that some of these natural supplements (I'm using Young Living Essential Oils & their super fruit supplement NingXia Red currently) can replace the meds I was on. I've been exercising regularly for several months now, probably the longest I've ever been consistent with any type of movement. (Thanks to my SIL down the street !)
What I've Read That Can Help
Fish oil
Benadryl
Lots of sleep (ha)
Starting another anti-depressant immediately – which I'm not really willing to do
motion sickness meds
fresh air & exercise (strength training in particular has helped me!)
I also wanted to share with you another lovely blogger that shared about her experience in coming off Effexor, Jayme from Tales from the Coop Keeper.  I have read her blog for ages, she is so funny and down to earth – and she has chickens. 🙂 But, when I read about her experience coming off effexor, I knew I had to write about it also. We have to share our stories so that others don't feel alone. Her blog helped encouraged me, I want to do the same for others.
Finally,I was going to share with you a few message board links of the horrid stories people have written while weaning off Effexor. But, I didn't want to scare my sweet readers. (I've read reports of people being hospitalized coming off it!) So, I will just say, if you are feeling courageous, just go and google "weaning off effexor" or such…don't say I didn't warn you. 🙂
My biggest piece of advice: if there is ANY way you can AVOID starting this med, PLEASE DON'T TAKE IT. I know there are those of us that need these meds to survive, if that is you, of all people, I know you have to do what you have to do. But I would recommend trying any and all options before you try effexor.
And if you already are one it and trying to wean: take a deep breath. Just realize that this is going to be hard. Accept the fact that you may need to accept help from others. Knowing is half the battle. 🙂
In closing, I want to thank you for reading. Thank you for sharing this post with anyone you know who may be struggling. I hope and pray that you don't feel alone on this journey. That is why I share.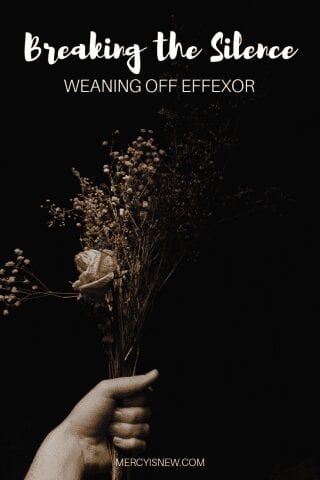 3 Years Off of Anti-Depressants
I would love for you to read an update now that I have been off all of my anti-depressants for 3 years and am thriving. God has been so good to me. My mindset has changed. My health has changed. We are never truly hopeless if we have Christ. We have the power of the Holy Spirit living within us giving us the power to make the steps necessary to BE TRANSFORMED.
My Journey Off of Anti-Depressants
My wellness journey & 51 pound weight loss! 
More posts on depression:
**I am not a medical doctor, a psychiatrist or anything of the sort. I'm just a regular mom sharing my experience with using this med and coming off it.