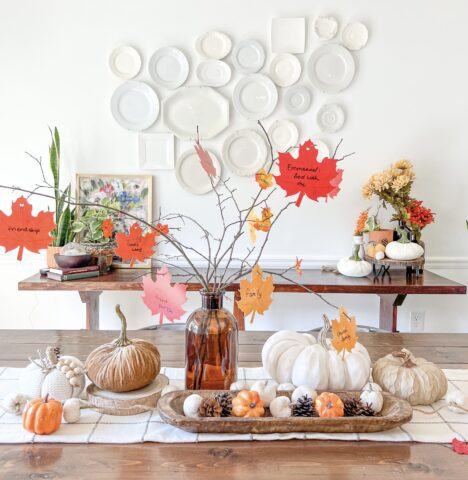 This has been such a meaningful family tradition over the years! If you've been reading my blog for lots of years, you probably remember this! I thought it was time to share it again! Every year our tree looked a little different but the process and the meaning behind it remained the same.
Cultivating gratitude is good for our kids and it's good for us.
"Let thankfulness rule in your heart. As you thank Me for blessings in your life, a marvelous thing happens. It is as if scales fall off your eyes, enabling you to see more and more of my glorious riches. With your eyes thus opened, you can help yourself to whatever you need from my treasure house. Each time you receive one of my golden gifts, let your thankfulness sing out praises to My name. 'Hallelujahs' are the language of heaven, and they become the language of your heart. 
A life of praise and thankfulness becomes a life filled with miracles. Instead of trying to be in control, you focus on Me and what I am doing. This is the power of praise: centering your entire being in Me. This is how I created you to live, for I made you in My own image. Enjoy abundant life by overflowing with praise and thankfulness." (from the Jesus Calling devotional)
SIMPLE STEPS
Grab branches from around the yard – have the kids help!
Place the branches in a jar or vase.
Either cut out or purchase pre-cut leaves from a craft store (I found some at Hobby Lobby)
Each day in November each person in the family will write one thing they are thankful for! Big things. Little things.
Hang the leaves on the branches.
THANKFUL TREES FROM YEARS PAST